News
Eric Clapton struggling to play guitar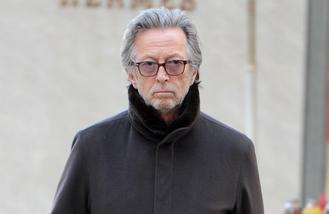 Eric Clapton can barely play guitar because of nerve damage.
The 'Tears in Heaven' hitmaker suffers from peripheral neuropathy, which can impair sensation and movements, and he admitted the pain the condition causes has made playing his instrument "hard work".
In 2013, the 71-year-old musician was forced to cancel a number of gigs due to back pain, and it turned out this was the beginning of the onset of the condition.
He told Classic Rock magazine: "I've had quite a lot of pain over the last year.
"It turned into what they call peripheral neuropathy - which is where you feel like you have electric shocks going down your leg.
"And I've had to figure out how to deal with some other things from getting old...
"[It's] hard work to play the guitar and I've had to come to terms with the fact that it will not improve."
But despite suffering from the painful condition, the former Cream guitarist just feels lucky to be alive because of his past struggles with addiction to alcohol, prescription drugs, cocaine and heroin.
He said: "Because I'm in recovery from alcoholism and addiction to substances, I consider it a great thing to be alive at all. By rights I should have kicked the bucket a long time ago.
"For some reason I was plucked from the jaws of hell and given another chance."
Eric has previously admitted that touring had "become unbearable" and he was "looking at retirement too."
However, the musician admitted he would keep recording - so long as he wasn't "embarrassing" himself.
He said: "What I'll allow myself to do, within reason, is carry on recording in the studio. I don't want to go off the boil to the point where I'm embarrassing myself."
Source: www.msn.com
Added by AutoAdmin
400 views