News
Olly Alexander's Spice World tour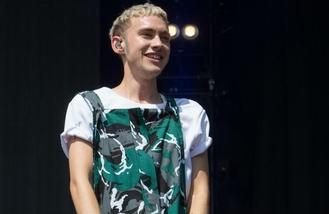 Olly Alexander feels like he's in 'Spice World' when he's on tour.
The Years & Years frontman admits his life reminds him of the Spice Girls' spoof documentary movie because of the way he travels between venues.
He told Glamour magazine: "The bus jolts to a stop at Wembley Arena. On tour, we travel through the night and arrive at our next venue in the morning, it's like being on a very un-glam cruise ship, crossed with 'Spice World'."
The 'King' hitmaker recently bleached his hair and admitted his locks are very high maintenance.
He said: "I start getting ready [at 7.30pm]. We're not on until 9pm, but I always spend way too long doing my hair and smearing glitter on my face...
"I crawl into bed and wrap my silk scarf around my hair - I know, but bed-head can be a nightmare since I bleached it."
No matter where he is in the world, Olly likes to switch off with a "geeky" podcast that reminds him of home.
He said: "I have to listen to a podcast before falling asleep.
"My go-to is the BBC World Service podcast. Sounds geeky, but it makes me feel at home while we're away and I start to drift off."
And the 'Desire' singer is also obsessed with watching old footage of his favourite singers.
He admitted: "I end up falling into a YouTube rabbit hole of Celine Dion and Mariah Carey compilations. I could watch their live performances all day."
Source: www.msn.com
Added automatically
774 views