News
Lily Allen was in bed with lover when stalker broke in: report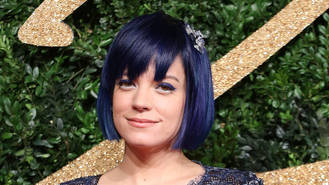 Lily Allen was in bed with her lover when a stalker broke into her London home, according to court documents.
The legal papers obtained by British newspaper The Sun reveal the singer, who is reportedly estranged from her husband Sam Cooper, was in bed with her DJ lover Daniel London when Alex Gray broke into her flat in October (15).
The 31-year-old singer hit headlines in April (16) after revealing she had been living a nightmare since 2009, when Gray began bombarding her with letters and posts on Twitter.com.
His apparent obsession with the mother-of-two prompted him to start sending her threats, before the trouble escalated into a full-on home invasion, when he stormed into her bedroom as she was sleeping and stole her handbag.
He was subsequently convicted of burglary and stalking causing alarm and distress, and earlier this month (10Jun16), a judge in London ordered Gray to be admitted to a mental facility for a psychiatric evaluation, ruling he should be detained indefinitely under the U.K.'s Mental Health Act.
Now, documents suggest DJ London was in Lily's bedroom when Gray entered the flat in the early hours of 2 October (15).
The singer's children, Ethel, four, and three-year-old Marnie, were also sleeping at the flat, along with a nanny. The newspaper has published papers from the prosecution which reveal London escorted stalker Gray from the property, after he burst in asking to see his father.
The documents, which refer to Lily by her married name and London by his birth name of Lawrence, detail the events of the break-in after Gray got into the flat through an unlocked back door.
"In the early hours of Fri 2 Oct 2015, there as a burglary at Ms Cooper's flat. At about 1.30am, Ms Cooper was in her bedroom with her friend Lawrence London. Her two children were asleep in their bedroom, and her nanny was in her bedroom," they read.
"A man came in she did not know - it was the defendant Mr Gray. He was wearing a dirty blue/red Umbro top. He was shouting loudly at her, saying 'Where's my Dad?'
"When her friend Lawrence London went to intervene, Mr Gray said words to the effect 'You know who I am stop pretending.' Ms Cooper assured Mr London that she did not know who he was, and asked him to get the stranger out of her house.
"Mr London got out of bed, and put his hand on the man's shoulder. He was still screaming at Ms Cooper, words to the effect 'She's a b***h, her and her kids.' Mr London began to usher him out of the bedroom... and he left. Mr London shut the doors and went back to check on Ms Cooper."
The report comes after Lily angrily denied a magazine story earlier this month (Jun16) suggesting she was splitting from husband Sam over her infidelity. "The story is untrue," she angrily wrote on Twitter. "Sam has not filed for divorce citing infidelity, neither have I. Wherever it came from, it's a lie."
Source: www.msn.com
Added automatically
697 views