News
Muse to perform stripped back set at Glastonbury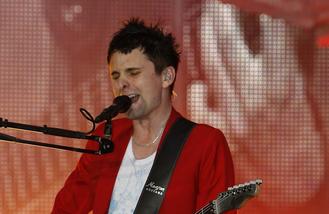 Matt Bellamy is "looking forward" to performing a stripped back set at Glastonbury Festival on Friday (24.06.16).
The 38-year-old Muse frontman - who is joined by bassist Chris Wolstenholme and drummer Dominic Howard in the rock trio - will headline the Pyramid Stage with just their instruments and no stage wizardry after travelling the globe with their high-tech production on the 'Drones World Tour', which ended on Tuesday (21.06.16).
In an interview with The Daily Telegraph newspaper, he said: "I'm actually really looking forward to stepping away from all this choreographed structure and reminding ourselves that we can pull it off with just our instruments. This band cuts its teeth playing 30 or 40 festivals a year."
And the 'Starlight' hitmaker is not going to let the weather or technical glitches turn him into a "diva" because over their career spanning more than two decades they've learnt to "embrace the chaos".
He added: "What you learn is that something will always go wrong. Stuff breaks, one of your trucks might not turn up, the screens stop working, the monitors fail, the weather could be bad. You can have a diva moment or you can just get on and have a great time with the songs and the crowd.
"Really, the stage is not yours. There are so many components that are unpredictable and out of your control, so there is no one to blame is anything goes wrong. Which it will. You might as well just focus on the music and the energy of the audience.
"I would say that has been one of the most character-building elements of life in Muse; learning to embrace the chaos."
Source: www.msn.com
Added by AutoAdmin
521 views