News
Led Zeppelin win Stairway to Heaven case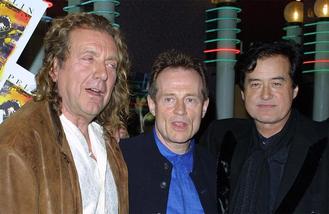 Led Zeppelin have been cleared of plagiarising the intro for 'Stairway to Heaven'.
The legendary rockers were accused of stealing part of their classic rock song from Spirit's 'Taurus' but the jury in the lawsuit - brought by Michael Skidmore, a trustee for the late Spirit guitarist Randy California - found the band not guilty on Thursday (23.06.16).
Although the jury found that Led Zeppelin did have access to 'Taurus', it was decided that the songs are not substantially similar
The group - which was comprised of Jimmy Page, Robert Plant, John Paul Jones and the late John Bonham - were accused of lifting the music from the 1968 instrumental track for their own song, which they co-wrote and released in 1971.
However, Jimmy denied allegations that he and Robert penned the classic rock song after hearing 'Taurus'.
Appearing in court in Los Angeles during the trial, the 72-year-old guitarist said: "Something like that would stick in my mind. It was totally alien to me."
However, Page did admit that he owned three Spirit albums and that Led Zeppelin used a riff from another of the band's track in a medley played during their first tour of Scandinavia.
The estate of Randy, who drowned in Hawaii in 1997 trying to save his 12-year-old son from a rip current, had argued for him to be given a writing credit on the track and share of royalties.
Shortly before he died at the age of 45, Randy told Listener magazine he believed 'Stairway to Heaven' was a "rip-off" of his own track with Jimmy and Robert regularly hearing 'Taurus' when Spirit supported Led Zeppelin in 1968 and 1969.
He said: "The guys made millions of bucks on it and never said, 'Thank You', never said, 'Can we pay you some money for it?'
"It's a sore point with me. Maybe someday their conscience will make them do something about it."
However, the jury in the case did not agree and Led Zeppelin have been cleared of any wrongdoing.
Source: www.msn.com
Added by AutoAdmin
523 views