News
Tom Jones' 'heart stopped' when his wife received cancer diagnosis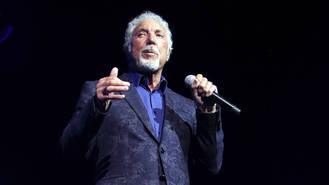 Tom Jones' "heart stopped" when he found out his wife of 59 years had just a week to live.
The Welsh singer lost Lady Melinda Rose Woodward, known as Linda, in April (16), after a brief battle with cancer.
In a new interview, Tom opened up about the moment he found out about the devastating diagnosis, and consequently decided to cancel the Asian leg of his tour to be with his spouse.
"We knew each other since we were kids. It was fast, she had cancer," Tom told Britain's Daily Mail newspaper. "I got the call that it was terminal, my heart stopped. I flew back to Los Angeles, and she had a week left."
Tom is still struggling to cope following his wife's death, but is hoping that a return to the stage this summer (16) will help him in the mourning process. While he knows some people may criticise him for heading back to work just a few months after Linda's passing, he added she told him not to give up on music.
"I have to be strong," he said. "First of all, I love singing. I mean, I get out of bed and I sing. I can't help it. Linda wanted me to keep singing, she said not to stop. She was a strong woman."
The 76-year-old She's A Lady singer has been very open about how he is dealing with his grief. He recently spoke to British stage star Michael Ball on his Radio 2 show and said that while Linda is no longer here, she will always be with him in spirit.
"She's still with me every day in my brain and in my heart, she'll always be with me. We shared our life together," he smiled.
He added that when he sings he feels Linda is there with him, saying: "She was a strong woman and was always there. It was a wonderful feeling to have known someone like that all my life."
Source: www.msn.com
Added by AutoAdmin
530 views