News
M.I.A. honours refugees with album announcement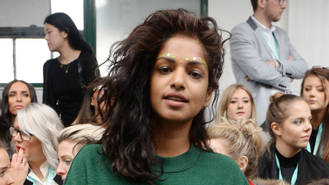 Rapper M.I.A. revealed her upcoming album release date by honouring refugees with a powerful essay.
The Paper Planes star has long been an advocate for misplaced citizens, and when she released details of her long-gestating album on Thursday (14Jul16), she used the opportunity to share a message in defence of refugee lives around the world.
M.I.A., real name Mathangi Arulpragasam, posted a piece written by author Sinthujan Varatharajah on her website, which read, "Survivors of war, conflict and genocide live on as IDPs (internally displaced persons) and refugees, dispersed across their homelands and the globe. They embody the violence that has displaced them into the unknown, into uncertainty and into camps and council estates. Survivors crossed countless continents, countries and borders, leaving behind their homes, lives and dead: only to be rendered invisible, silent and forgotten in exile; only to be told that their bodies might have travelled but their stories have not.
"Their narratives are construed as exchangeable, mutable and nuisance while their bodies are considered collateral damage. Survivors are treated as a surplus people whose very presence destabilises the status quo, whose voices unsettle the known."
It continues, "Borderlands are places doomed as hopeless, lifeless and futureless, where joy can never be traced, where dreams cannot be woven, where the everyday is thought to be absent... Born in the present tense only to be trapped in the past tense. Borderlands house people from all walks of life who are cramped into undignified shelters surrounded by barbed wires.
"In the absence of privacy and basic rights, its inhabitants are forced to constantly renegotiate boundaries and create new laws. It's a place where new global orders are created, where new encounters occur, where new cultures are formed, where new people are born: REFUGEES."
M.I.A. concludes the message by revealing her first single, Go Off featuring Skrillex and Blaqstarr, will be released on Friday (15Jul16), while her album A.I.M. is slated to be available for purchase on 9 September (16).
The announcement comes days after the star tweeted she was "so on the verge of leaking this album" because she hates it when "big Americana artists take from me and my work and refugee sentiments from my work before its release".
While it is unclear who she was accusing in the post, she followed it up with a tweet saying she was tempted to leak the record, "especially when I get told to 'Fight ur own battle.'"
Her last album, Matangi, was reached listeners in 2013.
Source: www.msn.com
Added automatically
722 views