News
Leona Lewis fails to impress critics in Cats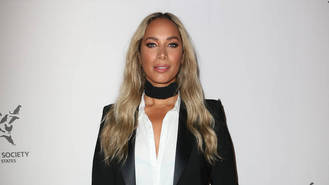 Leona Lewis has failed to win over theatre critics with her Broadway debut in classic musical Cats.
The Bleeding Love singer was drafted in to portray Grizabella in the show after popstar Nicole Scherzinger dropped out of the Broadway production following her stint in the London revival.
The new stage version opened at the Neil Simon Theatre in New York on Sunday (31Jul16) and while many critics praised Leona's singing skills, they were unimpressed by her acting ability and many observed that she failed to lose her perfect popstar look to convincingly play the old, downtrodden feline.
Dominic Cavendish wrote in Britain's Daily Telegraph, "She needs to lose some of her sheen... Even in tear-stained mascara and smudged lipstick, dressed in decaying, ghost-grey furs, she could almost pass for a blemish-free prom queen."
He added she looked like she was "going through the motions", a sentiment shared by Vulture's Jesse Green, who writes, "Leona Lewis brings to the underwritten role only a few unsubtle top notes, which she offers ritually, as if they were dead mice."
Cavendish also wrote Leona's voice could have done with more grit and "a hint of the gutter", a observation made by several other critics.
The New York Times' Charles Isherwood added, "The lonely pathos of reminiscing about a life gone by is hard to put across when you look and sound as Ms Lewis does."
The Wrap's Jason Clark also criticised her acting, writing, "Although Brit songstress Leona Lewis is blessed with a divine pop belt perfect for the classic 11 o'clock number Memory, sadly she does not have the acting chops to put across Grizabella's tragic arc," while Marilyn Stasio from Variety declared Leona isn't in the "same league" as stage actress Betty Buckley, who originated the role.
However, Leona seems to be enjoying her new Broadway role as she recently told London's Evening Standard, "It's been amazing playing Grizabella. The audience reaction has been greater than I could have hoped for and I've really enjoyed it."
Source: www.msn.com
Added automatically
599 views