News
Kesha discontinues Dr. Luke lawsuit in California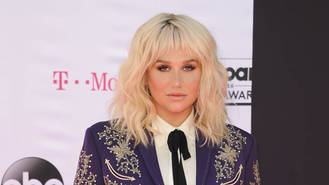 Singer Kesha has decided to drop legal proceedings against Dr. Luke in California to focus on reviving her career.
The Tik Tok hitmaker has been embroiled in a bitter lawsuit with her label boss and former mentor, Dr. Luke, since 2014, when she accused him of emotional and physical abuse.
Kesha hasn't released a new album since her sophomore effort Warrior reached listeners in 2012, and her representative reveals she has decided to stop pursuing her lawsuit in the state of California to free up some more time for music, however, she'll still be seeking justice on the East Coast.
"Kesha has dismissed her California action without prejudice while she pursues her appeal and other legal claims in the New York courts," the pop star's lawyer, Daniel Petrocelli, said in an official statement released to Rolling Stone. "Kesha is focused on getting back to work and has delivered 28 new songs to the record label. We have conveyed to Sony and the label Kesha's strong desire to release her next album and single as soon as possible."
But Dr. Luke's attorney Christine Lepera believes Kesha's decision to stop her lawsuit in California speaks to a lack of evidence.
"If Kesha is voluntarily dismissing her claims in the California case, it is because she has no chance of winning them," Lepera wrote in a counterstatement. "Earlier this year, she lost her meritless counterclaims against Dr. Luke in the New York Action. Recently, the California Court invited Dr. Luke and the other defendants to move to dismiss Kesha's claims in that action. Kesha never should have brought her false and meritless claims against Dr. Luke in any court. Dr. Luke's defamation and other claims against Kesha are still proceeding."
Earlier this year (16), Kesha was unsuccessful in her legal bid to scrap her contract with Kemosabe Records, which is owned by parent company Sony, and following the court verdict, she insisted her career would be restricted as a result of the judge's order. However, Dr. Luke declared that wasn't the case and there were no such restrictions on her deal, adding Kesha was free to work with anyone she wanted to collaborate with.
She has since worked with electronic producer Zedd on a track called True Colors, which was released back in April (16). But just weeks after the single reached listeners, she was barred from performing at the Billboard Music Awards in May (16) because Dr. Luke and other bosses at Kemosabe Records rescinded their approval for her performance out of fear she would discuss the ongoing court dispute.
Source: www.msn.com
Added automatically
632 views