News
Barbra Streisand 'shocked the hell' out of Seth MacFarlane when she asked him to duet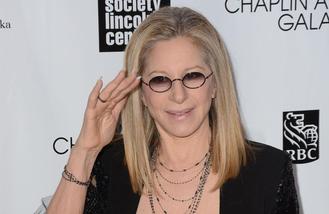 Barbra Streisand "shocked the hell" out of Seth MacFarlane when she asked him to duet.
The 'You're The Cream In My Coffee' hitmaker has admitted he was left dumbfounded when the 74-year-old singer songwriter approached him about collaborating on the new album 'Encore: Movie Partners Sing Broadway'.
Speaking to Noise11.com about their recent partnership, the dark haired hunk said: "When I heard that Barbra wanted to work with me it shocked the hell out of me. It still shocks the hell out of me."
However Streisand has admitted she always knew joining forces with MacFarlane on 'Pure Imagination' would be "great".
She explained: "I've always loved the song 'Pure Imagination'. It was another Tony Newley song. I didn't know he wrote it for many years and I thought Seth MacFarlane would be great."
Meanwhile, the 'Somewhere' hitmaker is reportedly in talks to make a duet album with Adele.
The 28-year-old singer and the showbiz legend are said to have met in Los Angeles last week to discuss the idea and label bosses at Columbia Records, which they are both signed to, believe they can enjoy great chart success if the plan comes to fruition.
Speaking previously, an industry insider said: "This could easily become one of the most important and lucrative collaborations in modern music history. And they are both very much up for it.
"Despite the huge gulf in age and their different genres, both have said they would love to get together in the studio and record a duets album.
"The feeling is that the tracks would most likely be new versions of their own best-known numbers with maybe one of two new songs added to the mix."
Although Adele and Streisand are extremely busy, they are said to be very enthusiastic about the idea and are determined to make it happen.
The source explained: "Both of them have busy schedules but the logistics shouldn't be too much of a problem because this is something they both have their hearts set on."
Source: www.msn.com
Added automatically
623 views