News
Prince's family 'hold private service to remember musician'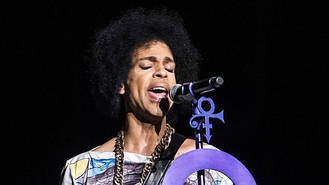 Prince's family have reportedly held a private service to remember the iconic musician.
A cousin of the Purple Rain hitmaker told Billboard.com family members and close friends gathered in Minneapolis, Minnesota, on Friday (12Aug16) to bid a fond farewell to their loved one and remember his life.
Prince died on 21 April at his Paisley Park estate of an accidental drug overdose at the age of 57.
Charles 'Chazz' Smith told local news channel KARE-TV that Friday's service was held at a Minneapolis church, and another is planned for Saturday (13Aug16) at Paisley Park.
He opened up during the short interview, revealing the late musician's family have been finding it hard over the last few months, and they're trying hard to preserve Prince's image.
Talking about his death from a Fentanyl overdose, Smith said he hoped it would help others struggling with a painkiller addiction to seek help.
The service on Friday comes after the administrator of Prince's estate was granted permission to sell a number of the late star's real estate. The Kiss hitmaker did not leave a will when he died, and the administrator at Bremer Trust recently asked a judge to put various properties on the market.
The Paisley Park compound, which also includes a recording studio and featured in the 1984 movie Purple Rain, will not be part of the sale, but other properties near his hometown of Chanhassen are.
A court filing had reportedly included a list of nearly 20 places which could be sold, and on 11 July (16), Judge Kevin Eide allowed the administrator to list six properties this month (Aug16).
However, they will have to seek another affidavit before they can put the other buildings on the market, according to Access Hollywood.
Source: www.msn.com
Added automatically
582 views