News
Pharrell Williams aims to fight divisiveness with new school supplies collection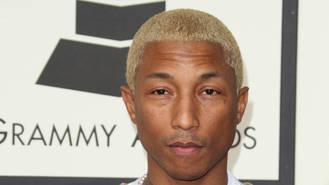 Pharrell Williams wants to help kids celebrate their individuality with his new school supply collection.
The Happy hitmaker created his charity i am OTHER in 2012 in a bid to promote tolerance, and as part of his latest philanthropic effort, bosses at his organisation have partnered with the children's stationery brand Yoobi.
Williams, who is father to seven-year-old son Rocket, believes his Yoobi x i am OTHER school supply collection will help fight what he considers to be a "wind of divisiveness" that is currently blowing through world affairs.
"There are certain individuals that know how to fly their kite brilliantly... For us, it's important to continue to push the message that it's OK to be different," he explains to UsMagazine.com. "It's OK to celebrate each other's differences. We want to bring people together. And education is a wonderful start. Individuality is very important. Creativity is important. Curiosity is important."
The 10-time Grammy Award winner concludes, "We've got a real shot with kids, because they're the future. We just want them to grow up knowing better than some of the current folks in the present."
Organisers of the Yoobi x i am OTHER campaign are utilising unique slogans to inspire creativity and tolerance, such as the tagline, "Don't wait for the stars to align, create your own constellation", among other out-of-the-box catchphrases.
The Yoobi x i am OTHER collection is filled with colourful lunch bags, pencils, backpacks, notebooks and other essential school supplies, and for each product purchased, an item will be donated to an underprivileged U.S. classroom in need of help. Fans can purchase the bright supplies online and at American retailer Target.
Source: www.msn.com
Added automatically
627 views