News
Stooshe want Beenie Man in music video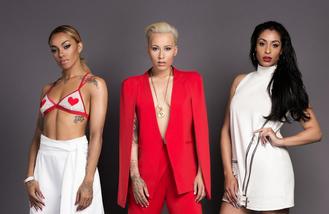 Stooshe are hoping to fly out to the Caribbean with Beenie Man to film a music video for their song 'Shots Fired'.
The 'Black Heart' trio - comprised of Alexandra Buggs, Karis Anderson and Courtney Rumbold - persuaded the Grammy award-winning reggae star to lay down his vocals on the track, which will feature on their as-yet-untitled second studio album.
However, they've never met the 'King of Dancehall' hitmaker and are hoping he'll fly out with them to appear in the promo video.
Speaking exclusively to BANG Showbiz, they said: " We haven't met him yet, we're trying to arrange a video in the Caribbean so that will be amazing if we can make that happen and we'd definitely meet him then."
The girls have described the song as having a "carnival" feel to it and revealed they were desperate to work with Beenie Man - whose real name is Anthony Moses Davis - after hearing the stuff he did on Drake's latest LP, 'Views'.
Speaking about the collaboration, they said: "It's a tropical, carnival, reggae-inspired song and us singing out our bad girl side. We heard him on Drake's album and we all love reggae and he likes that (style) so when we heard him on Drake's stuff he became relevant again - we didn't even realise - and we thought let's see if we can get him on our song and then the magic happened and we got him on the song."
Stooshe recently dropped their new drum and bass single, 'Let It Go' and are expected to release their new album at the beginning of 2017.
Source: www.msn.com
Added automatically
613 views