News
Mollie King's debut solo album is a 'heartbreak album'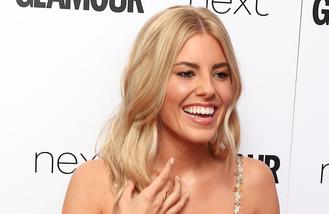 Mollie King's debut solo album is a "heartbreak album".
The 29-year-old singer songwriter - who made up one fifth of the girl band The Saturdays - has released her first solo single 'Back To You' and has admitted the track and the accompanying album are about "that relationship" with her former boyfriend David Gandy.
Speaking to Digital Spy about her record, Mollie - who dated the 36-year-old model in 2011 for 10 months before rekindling their romance again in 2015 before breaking up this year - said: "It is a bit of a heartbreak album. There are a lot of songs about that relationship, but they're all coming in at different angles. Some of them are a lot more positive, while others are sad. But I guess a lot of it is heartache, but that's where I've been over the last few months."
And the blonde beauty has admitted being single has helped her to pen the lyrics to her latest release and other songs because her writing is more fluid when it is based on her personal experiences.
She explained: "I've been single and it gives you that time to reflect on relationships you've had in the past. I've really learnt through doing this that I'm so much better at writing songs that are about actual things I'm going through, rather than trying to write a scenario that has never happened to me."
"So far I've written on every single song - just because I'm very specific about the lane I want to go down. I'm not too precious that if someone sends in a great song that I love, then I'd love to do it. But so far, I've been dictating which way it goes. So maybe once people hear what direction I've gone in, they'll send in similar ones as well. I'm very open to that. If it's a banger, I'll take it!"
Source: www.msn.com
Added automatically
647 views