News
Jon Bon Jovi singing on a Prayer for high notes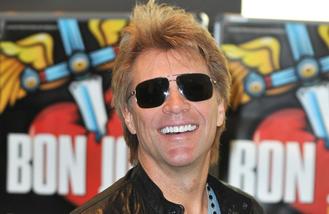 Jon Bon Jovi regrets putting a key change in his biggest hit 'Livin' on a Prayer' because he struggles to sing it now he's 54.
The rocker loves to wow fans with the classic song on stage but now he's started the approach to his 60th birthday he finds it very hard to hit the same high noes he could when he co-wrote the track back in 1986 when he was 24.
He said: "If I could meet the 18-year-old me, my only advice would be this, 'Stop before the key change in 'Livin' on a Prayer'! Stop! You don't need it!' I'm 54 now and every night I'm about to sing it I go, 'F**K!' "
Jon has seen his band enjoy many ups and downs since they burst on the music scene in the 1980s with the surge of grunge in the 90s hurting their drawing power due to them being synonymous with the 'hair metal' scene.
But the frontman has never tried to change Bon Jovi's sound or follow fads because it won't work for your music.
He explained: "You've just got to be true to who you are, be sure your songs represent your truth. Don't follow fads or fashions - because you'll always be a day late!"
Bon Jovi are just about to release their new album 'This House Is Not For Sale', their first LP since 2013's 'What About Now'.
Jon admits he struggled to find the inspiration to write new songs after completing the group's last tour and had to wait before penning his tracks.
He said: "I was not ready, in 2014, to put into those words what were my thoughts, but I was confident that in time I would have something to say. The writing began in 2015 and was completed by the spring."
Source: www.msn.com
Added by AutoAdmin
313 views