News
Fall Out Boy to reissue second and third albums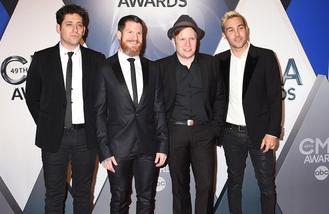 Fall Out Boy are to reissue their second and third albums.
The US rockers - made up of Pete Wentz, Patrick Stump, Andy Hurley and Joe Trohman - are to re-release their 'From Under the Cork Tree' and 'Infinity on High' records on vinyl on December 16, according to NME magazine.
'From Under the Cork Tree' dropped in in May 2005 and featured hit singles, 'Sugar, We're Goin Down', 'Dance, Dance' and 'A Little Less Sixteen Candles, a Little More "Touch Me"'.
It became the group's best-selling album at the time after managing 14 weeks in the top 20 on the Billboard 200 chart.
The band released 'Infinity on High' two years later and it became their first number one album in the US after topping the chart.
The record also spawned catchy singles, 'This Ain't a Scene, It's an Arms Race' and 'Thnks fr th Mmrs'.
Fall Out Boy's last album was January 2015's 'American Beauty/American Psycho', their sixth studio record, but while playing at Reading Festival in August bassist Pete Wentz told the crowd the group would be "back with new music" at some stage.
He recently admitted the band would love to work with Green Day one day.
Pete said: "They're definitely at a level where they call the collaborative shots. If they ever called us up we'd definitely answer the phone!"
Source: www.msn.com
Added automatically
568 views