News
Fergie to release second album early next year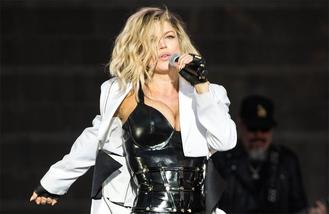 Fergie has promised to release her new album early next year.
The 'London Bridge' hitmaker has finally finished her follow-up to her 2006 debut LP 'The Dutchess' and can't wait to share it with the world.
Answering fans questions on a Live Facebook Chat, she shared: "I am so ready for this album to come out you have no idea.
"I've turned it in. It's done and it's coming out the beginning of the year."
The 41-year-old singer - who has three-year-old son Axl Jack Duhamel with her spouse Josh Duhamel - says the reason for the delay in releasing her record was that she was busy trying to be a good mother and husband.
She said: "I"m sorry it has taken so long, to those of you who have been waiting, I got a kid and a husband and I need sleep and I just really cared about it."
The blonde beauty has teased that there will be a lot of "emotion" and personal lyrics on the album, which she has been holding onto as she wasn't able to put it out there during her time in the Black Eyed Peas from 2003 to 2006.
She continued: "But I hope it will be worth it. A lot of it is really autobiographical and, you know, I had four albums with Black Eyed Peas, but that's really not the time and place to air out some of my own personal feelings and thoughts and emotions.
"So my second album is the place for me to do so, there's a lot of emotion."
Meanwhile, Fergie previously said she felt ready to get back into the music game as a result of her husaband's encouragement.
She said: "My husband was really the one who encouraged me.
"He said, 'It's who you are, and I want to see you onstage again.'"
Fergie finally feels like she got the balance of being a mother and wife, alongside being a pop star just right.
She said: "The person I've worked so hard to become in my career, my destiny to be an entertainer, was matching up with my destiny to have a family and be a mom."
Fergie recently returned with new single 'Life Goes On' and prior to that she released 'M.I.L.F.$'.
Source: www.msn.com
Added automatically
583 views