News
Joe Jonas enjoys using whips in his own sex life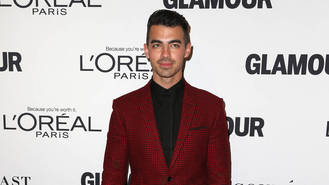 DNCE's raunchy new song Be Mean was inspired by pop star Joe Jonas' own "wild" sex life.
The former Disney star, who famously used to wear a purity ring during his time in the Jonas Brothers, recently confessed he lost his virginity at the age of 20 to ex-girlfriend Ashley Greene, and now he's opening up further about embracing his sexuality.
Joe, now 27, sings about bondage and sadomasochism (S&M) in his group's new single, and he admits fans can get a real insight into his own bedroom preferences from just listening to the lyrics.
"Some people say, 'We finally can talk about these kinds of things, and we want to go wild and crazy,' but really, it's just stuff we're going through," he told PrideSource. "I feel like I'm free in my life to speak about it, and yeah, everyone should try a little bit of something new in the bedroom."
"It's definitely fun when you bring some whips and leather and whatever you may be into - a little bit of S&M - into the bedroom," he added.
However, Joe, who more recently dated runway star Gigi Hadid and Brazilian model Daiane Sodre, isn't about to name names about the lover he sings about on Be Mean.
"I wrote it about me and someone I was getting wild with and maybe (we) busted some outfits out," he teased. "You know, you get a little crazy. It's a fun song, and I hope people can have fun with it and learn from it."
The singer, who is now reportedly dating Game of Thrones actress Sophie Turner, insists his more mature sound and subject matters are all part of growing up and experiencing new things, but that doesn't mean he regrets his more clean-cut past as a member of the Jonas Brothers.
"I'm proud of the stuff I did with my brothers, but you grow up and go through a lot of different things, so you may be talking about something very innocent - a first kiss, taking somebody out for the first time - when you're that age," Joe shared. "But cut to when you're 27, and you're going through things that are a bit more mature, sexually or what not, and that's what you're gonna write about."
He added, "I feel really comfortable in my life and career right now. I definitely feel like the best version of myself, and I'm glad I can have a good label now that allows me to spread my wings and create music that really is, for all of us (in the band), unique and special."
Source: www.msn.com
Added automatically
542 views