News
Ciara gets tearful during hospital visit to child cancer patient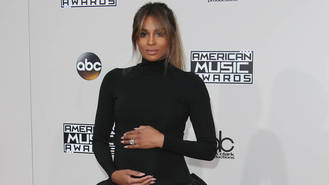 Ciara asked her fans to pray for a 20-month-old patient during a visit to the Seattle Children's Hospital.
The pregnant singer joined her husband, Seattle Seahawks quarterback Russell Wilson, on his weekly visit to the hospital where they met with Wesley, a little boy who is dying from cancer. After meeting the young patient, Ciara became tearful at his bedside and had to walk away.
The visit was all the more impactful for the Goodies singer, as she has a son, Future Zahir, who at two years old is almost the same age as Wesley.
"Wesley is (almost) two years old and he is at the end of his life, in the blind cycle, so pretty sad. Pretty tough for me being a mom, because I didn't even know what to expect when I walked in there and angel baby," she said in a video obtained by E! News.
"What's really cool is that he was kind of like doing more than I guess that he had been doing and he just opened his eyes and they were saying he hadn't opened his eyes for a while so that's pretty sweet. We both said prayer, I said a prayer for him and we did handprints and stuff that was really sweet. So really, really tough time, very special time," Ciara added.
Finishing on an upbeat note, Ciara rallied her fans to pray for Wesley, "Go Wesley. Let's all say prayers for Wesley because miracles are real and they do actually happen and prayers do change and do make a different and everybody lets pray together for Wesley."
Russell posted a photo of the couple with her handprint artwork next to Wesley's bed and wrote, "Wesley is an inspiration to @Ciara & I! We even got to do arts & crafts with him @SeattleChildrens... my hand was just a tad bit bigger! Please pray for Wesley as they say he doesn't have much longer to live but we are praying for a miracle!"
Source: www.msn.com
Added automatically
561 views