News
James Blunt injected Carrie Fisher's wit into new album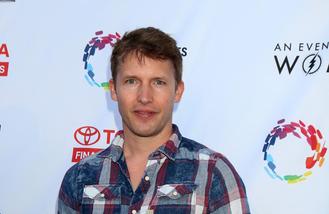 James Blunt injected some of the late Carrie Fisher's wit into his LP 'The Afterlove'.
The 43-year-old singer - who once rented an apartment from the former 'Star Wars' actress and remained friends with her until her death last year - has tried to incorporate the legendary star's ability to laugh off abuse in his fifth studio album.
Speaking to the Metro newspaper, he said: "She and I bonded over the fact that we laugh at ourselves and don't take ourselves too seriously. She is someone who dealt with more difficulties than me, from drug abuse to mental illness. She was always very forthright about that and dealt with it with laughter. It was very inspirational."
And James' single 'Make Me Better', which he co-wrote with his friends Ed Sheeran and Snow Patrol's Johnny McDaid, draws particularly on the torrents he's received.
He explained: "It's about people saying the meanest things. I've been called a d***k. I've been called so many things. I have been called much worse than a d**k."
It's not just Ed, Johnny and Carrie who the 'You're Beautiful' hitmaker credits as his friends, as James is also close with OneRepublic's Ryan Tedder and actually penned his track 'Love Me Better' in the American singer-songwriter's hotel room in London.
He said: "Ryan's a mate. I went on tour with them, on their tour bus like a groupie - but didn't put out. I wrote 'Love Me Better' in his hotel room in the Corinthia Hotel in London and someone banged on the door at 9:30 pm and asked up to turn the music down."
Meanwhile, James was left devastated in December when he found out his pal Carrie had passed away at the age of 60 from a cardiac attack and has admitted lie won't be as "fun" without the hilarious actress around.
He said: "She was just the most incredible person. She was a hugely bright person and her brain just jumped between subjects and she was an incredible writer and comedian in her own way. Life will definitely not be as much fun now that she's not around."
Source: www.msn.com
Added automatically
616 views