News
Vanessa White delayed EP due to legal reasons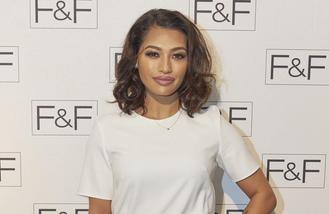 Vanessa White was forced to delay her second solo EP 'Chapter Two' because of a legal case.
The 27-year-old pop beauty has revealed the track 'Trust' is about "snaky people" in the music business and how she had to cut some songs from the mini album, which is expected to drop this spring, because of a sticky situation, which she is not allowed to speak about for legal reasons.
In an interview with the BBC, she shared: "There were certain songs I loved that I couldn't use any more.
"So I've basically had to start again, which is why it's taken this long."
It didn't stop the former Saturdays singer - who had planned on dropping the follow-up to 2016's 'Chapter One' last summer - writing about what happened and by putting her anger and emotions into her songs she feels stronger "mentally" now.
Although, she admits at the time she was "scared" to go into the studio with other people who she didn't know.
She added: "The silver lining is it's given me something to write about. I'm in a much better position now, mentally.
"I used to get so scared of going in the studio with people I didn't know but now, you could put me anywhere and I'd be fine."
On 'Trust', she sings:"I won't stroke your ego. I'm onto you, I'm onto you. Don't underestimate my intelligence."
Vanessa is now channelling an R&B sound for her music away from The Saturdays, which has meant that her previous pop experience has been useless to her solo career.
Recently asked what kind of foundation the 'All Fired Up' hitmakers had given her as a solo artist.
She replied: "I guess none, because the kind of things that I'm doing is so different I can't really take anything from that. I'm grateful for it, you do learn a lot of things but I'm happy to start again."
Source: www.msn.com
Added automatically
615 views