News
Ed Sheeran has wanted Game of Thrones cameo for five years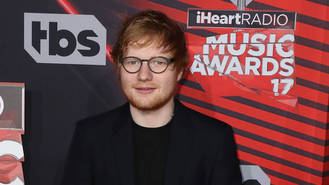 Ed Sheeran has been trying for five years to land a cameo role in TV show Game of Thrones.
During a panel chat at the 2017 South by Southwest (SXSW) Festival in Texas in March (17), the show's creator David Benioff announced that the Thinking Out Loud singer had been given a small part in the upcoming season seven. He explained they had been working on securing his appearance for years as actress Maisie Williams, who plays Arya Stark, is a big fan.
Ed has now revealed that he's been trying to get on the show since 2012, when his pal Gary Lightbody, from Snow Patrol, had a cameo and Ed asked the rocker to help him get one too.
"My friend guested in it in 2012 and I remember I was on tour with him and he was like: 'Right, I've got a guest slot on Game of Thrones'. I remember saying: 'You got to get me on it at some point,'" he recalled, according to the Daily Star newspaper. "It's been five years so it's finally come true."
According to the publication, the 26-year-old filmed scenes alongside Maisie in November (16) and he always has the opportunity to come back in the future because his character doesn't get killed off.
"I don't die in it, I don't die," he explained. "I'm only in it for like five minutes. I'd probably prefer to have sex than die in the show. I'm sure a lot of people are into that (have sex and die) but I'm not."
At SXSW, Benioff explained, "For years, we tried to get Ed Sheeran on the show to surprise Maisie, and this year we finally did it."
Ed isn't the only new famous face on the show - Jim Broadbent has joined the cast in a regular role.
The new season will premiere this summer (Jul17).
Source: www.msn.com
Added automatically
617 views