News
Katherine Jackson dismisses elder abuse case against nephew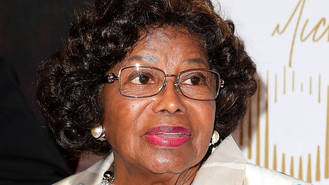 Jackson family matriarch Katherine Jackson has dismissed her elder abuse case against her caretaker nephew.
The 86-year-old obtained a temporary restraining order against Trent Jackson, who worked as her driver and looked after her finances and wellbeing, in February (17) after she claimed he was "an abusive con man" who had been emotionally abusing her and trying to take control of her money for years.
Trent denied the claims and filed legal documents claiming Katherine's son Jermaine, the brother of the late Michael Jackson, was masterminding the whole case in and attempt to control Michael's estate.
He asked a judge to either dismiss the case or force Katherine to appear in court, as he believed she would support him in person.
Last month (Mar17), Judge Rolf Treu ruled that he would not accept a sworn statement from Katherine, and told her lawyers she would have to appear in person in Los Angeles County Superior Court for her testimony and cross-examination in the case. At that time, Katherine was in London with her daughter Janet.
Katherine's lawyer Joy Bass told the New York Daily News Katherine, who travelled to the U.K. to support Janet after the birth of her first child and the breakdown of her marriage, is currently "under a doctor's care" in London, and shouldn't be forced to jeopardise her health in order to deliver a live testimony.
Now, hours before her scheduled testimony, Katherine dropped the case against Trent.
Her new lawyer, Nelson Handy, told the court his client was "not prepared" for a trial.
"She wants to see if she can take a step back in this matter," he said.
Katherine asked the court to dismiss her petition without prejudice, which means she will be allowed to file it again at a later date, if necessary.
"We don't want her prejudiced from seeking relief in the future," Handy said.
But her nephew's legal team challenged the request and the judge agreed with them, ruling Katherine was welcome to come back with new allegations of abuse if they related to future conduct.
In a prior statement, filed in support of her petition, Katherine claimed she was "tired of being subjected to (Trent's) manipulation, mistreatment, abuse of my finances and bullying."
Trent's lawyer Ron Rale told the New York Daily News, "He's truly hurt by this. He genuinely misses his aunt."
Source: www.msn.com
Added by AutoAdmin
459 views