News
Mustafa the Poet's new song is a heartbreaking homage to a friend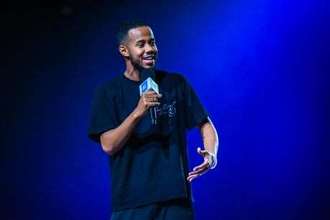 Toronto-based poet, singer and songwriter Mustafa The Poet has released a new song and music video, "Ali", from his forthcoming debut project When Smoke Rises.
The song is a moving tribute to the artist's late friend, who died in 2017.
"It'll never be easy and it'll never be filled but we can honour the void, how vast it is, what it once was before it was emptied, what was left there by their memory, preserve the beauty of the people you lost, exhume those bodies, the weight you're carrying can become whatever you want it to be; if you only begin to understand it, exhume those bodies, may God have mercy on everyone we lost before we had a chance to say goodbye, Ali forever," the artist wrote on Instagram.
"Ali" is the third song released from the artist's new album, which is set to drop in May 2021.
The 24-year-old songwriter was raised in Canada and has written for artists including The Weeknd and Usher.
In 2020, he also conducted a live performance of his song "Come Back",featuring James Blake, which was directed by the Australian-American film and music video director Nabil Elderkin.
Mustafa received recognition from a young age for his verses and poetry, "in which he wove empathy and existential angst into pleading, incisive tales from Regent Park, the downtown Toronto neighborhood" reported Pitchfork.
He made regular appearances on CBC and other national platforms, "an earnest emissary for the Black and the poor".
In February this year, YouTube Music awarded him with its NewArtist on the Rise award.
Mustafa wrote in response to the honour: "Yo, seeing my brothers and I on billboards in major cities is a feeling I can't describe, there was once a time I couldn't even picture us outside the borders of the hood. Honoured to be YouTube's new Artist on the Rise.
"Sometimes a song takes time, sometimes trying to reimagine your reality through a new genre and feeling takes time. You have to trust its journey, thank you YouTube music for giving 'Stay Alive' a new life."
Source: msn.com
Added automatically
391 views