News
ABBA divorces: Why did ABBA break up? Which couples were married in the band?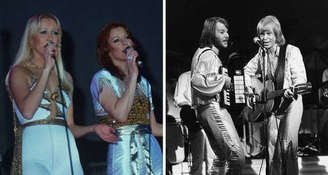 Björn Ulvaeus and Benny Andersson were the brains behind the hit band ABBA, which formed in 1972. With their incredible songs, the band rose to fame after their Eurovision win in 1974 and continued to win the hearts of fans for almost a decade after. They split in 1982 after a great deal of heartbreak - but why did they split up and who were the couples in the band who helped the split along?
A huge reason behind the split of ABBA came with the couples formed in the group itself.
Before the official forming of the band, Agnetha Fältskog, one of the singers, married Björn Ulvaeus in 1971, while in 1978, Anni-Frid Lyngstad married Benny Andersson, with whom she had been in a relationship since 1969.
These relationships brought the band together at the start and lasted pretty much throughout the entirety of the band's success.
However, things soon turned sour, and the band struggled to continue to create while there were difficulties and splits in their marriages.
Björn once said of the songwriting process during that time: "I think I wrote 'Knowing Me Knowing You' before the divorce.
"In many ways, Agnetha and my divorce was an amicable one, we just grew apart and decided let's split up.
"Benny and Frida's was a little more difficult. It was not a happy time but still very creative."
The song The Winner Takes It All, however, was about their divorce, and Agnetha sang the song.
Agnetha talked about it in an interview with You magazine, saying: "Björn wrote it about us after the breakdown of our marriage.
"The fact he wrote it exactly when we divorced is touching really. I didn't mind.
"It was fantastic to do that song because I could put in such feeling.
"I didn't mind sharing it with the public. It didn't feel wrong. There is so much in that song.
"It was a mixture of what I felt and what Björn felt but also what Benny and Frida went through."
Björn and Agnetha divorced in 1979, while Benny and Frida announced their divorce two years later, in 1981.
While each member was focussing on other work, such as solo careers and songwriting, their marriages are believed to be the reason the band could not continue together, though for Björn and Agnetha, both have said their split was fairly "amicable."
Speaking about the band's split, Benny said in 2017: "Things were happening in real life too, not just in [our] working life.
"Frida and I got divorced, [Björn and Agnetha] got divorced.
"At first we still worked together though because we knew what we had.
"We were on a break when Tim [Rice] came along.
"He gave us these opportunities and afterwards, we were like what's the point in going back [to performing] because we like theatre so much?"
As a group, ABBA has sold millions of records and has also been inducted into the Rock and Roll Hall of Fame for their incredible work in the music business.
Source: msn.com
Added automatically
201 views