News
Dua Lipa: The Face Of The X Factor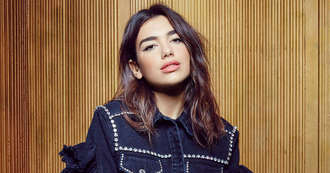 Since 2017, for every breakup and every heartache, Dua Lipa has been the go-to girl to remind us why not to go crawling back to our exes, and the last twelve months have seen her cement her status as a genuine pop princess thanks to the success of songs like Levitating and Physical. No recording artist has helped us through lockdown more than she has. But who knew that it all started on The X Factor, the TV programme that brought us One Direction and Little Mix? Well, sort of.
A video has returned to public attention this week, a year after going viral on Twitter, after someone rediscovered the 2013 X Factor campaign. It in, Dua Lipa was hailed as the next star, way before her New Rules days.
The 25-year-old singer from London is seen singing Sister Sledge's 'Lost in Music' in her back garden as she's putting the washing out no less, attracting the attention of neighbours and people walking past. Those powerful vocals end up taking her to the audition room with Simon Cowell, Nicole Scherzinger, Sharon Osbourne and Gary Barlow in the one-minute long advertisement.
But clearly Mr Cowell was losing his touch already, as he let the superstar slip through his fingers: she was signed to Warner Music Group in 2015.
After her self-titled debut album was released in June 2017, 'New Rules' was the sixth song to be released from the album and was her first UK number one. She was the first female solo artist to hit the top spot since Adele's comeback single 'Hello' in 2015.
Her second album, Future Nostalgia, just won her two BRIT Awards. Who needs Simon Cowell anyway?
Source: msn.com
Added automatically
363 views