News
It Took Producers Five Weeks To Find Adele's Old Teacher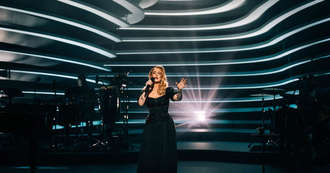 Even if you didn't watch last night's An Audience With Adele on ITV - sorry, but what were you doing?! - you've probably seen the clips on social media, either of Emma Thompson's iconic dancing or the super-sweet moment when Adele was reunited with her favourite teacher. During the special, which was recorded earlier this month at London's Palladium, her English teacher Ms McDonald was brought on stage - after Emma Thompson quizzed Adele about whether anyone had inspired her or changed her life.
Naming her teacher, the singer said: 'She left in year eight but she got me really into literature, I've always been obsessed with English and obviously now I write lyrics. But she also did street dance, I was too scared to go in, but like in the canteen they used to do these dances and stuff like that.
'She was so bloody cool, so engaging, and she really made us care, and we knew that she cared about us and stuff like that. She used to have all these gold bracelets and gold rings. She was bloody cool and so relatable and likeable, that I really looked forward to my English lessons.'
Adele then started to tear up as the teacher was brought on stage - in one of the sweetest TV moments of the year (and Adele even said hello to Ms McDonald's children, who were also in the audience). Adele might be famous for going to the performing arts Brit School in Croydon, but Ms McDonald used to teach at Chestnut Grove School in Balham, the school Adele went to before she went to Brit.
Despite the cynics on social media saying the stunt was rehearsed, Adele seemed genuinely shocked that her teacher was in the audience. And while Adele might not have known about it prior to the recording, Ms McDonald wasn't there by chance... She had been found by producers. And apparently, it took a very long time to track her down.
Ben Winston, the superstar TV producer who worked on the show, revealed in a tweet that it took Fulwell73, the production company behind the show, five weeks to find her. Resharing the clip, Ben - who is also the executive producer of James Corden's Late Late Show - wrote: 'This is a great telly moment. So overjoyed we found Miss McDonald. 5 weeks of searching by the @Fulwell73 team! It was worth it.' As Ben says, it was most definitely worth it for this moment of TV gold. We're not crying, you are.
Source: msn.com
Added automatically
99 views