News
Tony: Spandau not on 'award' radar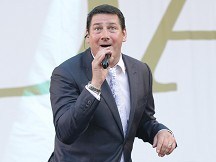 Tony Hadley isn't too disappointed Spandau Ballet were never nominated for any big awards - but has admitted it would've been nice to get the recognition.
The singer enjoyed reuniting with the New Romantic band, one of the biggest groups of the Eighties, for a tour last year.
He said: "I've had a songwriting award but Spandau Ballet were never nominated for a Brit, a Mercury, or anything else. We've just never been on that radar.
"The other band never nominated for anything was Roxy Music so we're in good company, but some bands just don't seem to get the recognition. If I do some day I'll be very happy.
"I'll never go to the Brits until I win something. It will probably be when I'm in my eighties and they feel sorry for me!"
The singer insisted: "Really, as long as I'm making music, I'm happy."
Tony said he likes to play songs that the fans know at his gigs.
He said: "I've seen other bands try and be really clever like that and I'm not a fan. They either rearrange the old songs to the point where they aren't really the old songs any more, or they just play all their new stuff instead. It just doesn't work.
"If you've got a pedigree with certain songs, people want to hear those songs. They won't get tired of hearing a singer they like singing the songs they love."
Tony has a live gig on July 23 at the Capesthorne Hall in Cheshire, where he plays a show with Rick Astley, Martin Fry (ABC) and Go West.
Source: music.uk.msn.com
Added automatically
1130 views