News
Lady Gaga: I take after my dad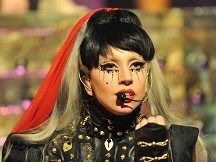 Lady Gaga has revealed she inherited her wild behaviour from her father.
The 25-year-old singer revealed in an interview with US radio presenter Howard Stern that her father Joe hired a stripper to teach her the piano.
Lady Gaga said: "He saw a lot of himself in me. My first piano teacher was a stripper. My dad told me later. I used to say to her, 'Why do you have such long nails?' She just said, 'Someday you'll understand why'."
The Born This Way singer revealed she used to be addicted to cocaine but her strict father encouraged her to quit. She confessed she still smoked marijuana.
She said: "I was for sure addicted to coke. I got off it because my father called me out and kicked my a**. I didn't do it with people, I did it alone. But I regret every line I did.
"I don't do weed that often - and I tell the truth about that. I don't respect artists who aren't honest about what they do recreationally."
The saddest time in Lady Gaga's life was six months ago when she lost her grandfather, also named Joseph. She wrote her song The Edge Of Glory when she arrived home from visiting him in hospital.
She said: "My grandpa was dying and I was heartbroken. The only two times he moved was to squeeze mine and my grandma's hands.
"My dad and I sat at the piano doing shots of tequila and I said to him, 'Grandpa's about to pass into his moment of glory. He's on the edge'.
"He just said, 'That's it kid'. I recorded it that day and I took it in and played it to my grandad. I know he heard it."
Source: music.uk.msn.com
Added automatically
1077 views