News
Music world mourns Amy Winehouse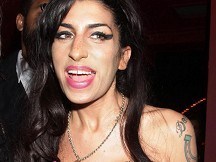 Fans, friends and family are mourning the death of Amy Winehouse after her body was found in her flat.
The 27-year-old singer had been troubled by drink and drugs problems throughout her career and news of her death was quickly followed by suggestions that it could be related to one or the other.
The troubled Back To Black artist cancelled all tour dates and engagements last month after a series of erratic public appearances. But news that she had been found dead at her north London home just before 4pm on Saturday came as a shock to many.
Her father, taxi driver-turned jazz singer Mitch Winehouse, was returning to the UK from New York where he had been due to give a concert on Monday.
A spokesman for the soul star said: "Everyone involved with Amy is shocked and devastated. Our thoughts are with her family and friends. The family will issue a statement when ready."
London Ambulance Service said it was called to Winehouse's home in Camden Square at 3.54pm. Two ambulance crews arrived at the scene within five minutes and a cycle responder also attended, according to a spokeswoman. A senior police officer said it would be "inappropriate" to discuss what killed her before a post-mortem examination had taken place.
Tributes poured in from celebrities, among them her collaborator Mark Ronson, who said in a statement: "She was my musical soulmate and like a sister to me. This is one of the saddest days of my life."
US singer Carole King, whose song Will You Love Me Tomorrow was covered by Winehouse, said she was "very grateful" the star had "put her wonderful talent" into recording the track. She added: "I just really hope that she's found peace now wherever she is."
Winehouse joins the notorious "27 Club" of musicians who have died at that age after struggling to cope with fame.
They include Rolling Stone Brian Jones, who drowned in a swimming pool in 1969; guitarist Jimi Hendrix, who choked to death in 1970 after mixing wine with sleeping pills; singer Janis Joplin, who suffered a suspected heroin overdose the same year; Doors star Jim Morrison, who died of heart failure in 1971; and Nirvana frontman Kurt Cobain, who shot himself in 1994.
Source: music.uk.msn.com
Added automatically
1033 views