News
BBC won't play witch song in full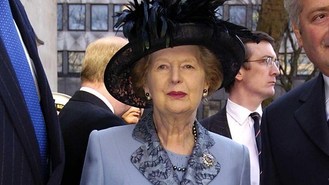 The BBC will not play Ding, Dong The Witch Is Dead - a big seller following the death of Lady Thatcher - in full during this weekend's Radio 1 chart show.
The song has shot into the top five after an online campaign encouraged opponents of the late prime minister to buy it.
A spokesman for the corporation said: "The BBC finds this campaign distasteful but does not believe the record should be banned. On Sunday, the Radio 1 Chart Show will contain a news item explaining why the song is in the charts, during which a short clip will be played as it has been in some of our news programmes."
Radio 1 controller Ben Cooper said there were "very difficult and emotional arguments on both sides of the fence". He told BBC Radio 1's Newsbeat: "Let's not forget you also have a family that is grieving for a loved one who is yet to be buried."
Writing in his BBC blog, Cooper said he had been "caught between a rock and a hard place". He said: "On one side there is the understandable anger of large numbers of people who are appalled by this campaign.
"On the other, there is the question of whether the chart show - which has run since the birth of Radio 1 in 1967 - can ignore a high new entry which clearly reflects the views of a big enough portion of the record-buying public to propel it up the charts.
"Above all, in the middle of this furore is a grieving family.
"Nobody at Radio 1 wishes to cause offence but nor do I believe that we can ignore the song in the chart show, which is traditionally a formal record of the biggest-selling singles of the week. That in turn means that all songs in the chart become an historic fact.
"So we will play a brief excerpt of it in a short news report during the show which explains to our audience why a 70-year-old song is at the top of the charts. To ban the record from our airwaves completely would risk giving the campaign the oxygen of further publicity and might inflame an already delicate situation."
An online campaign has driven sales of the song - which lasts less then a minute and is a clip of a longer piece from the Wizard of Oz - and the latest placings released by the Official Charts Company show it had sold 20,000 copies and was at number four on Wednesday night. The late former prime minister divided opinion and while many have mourned, some have seen her death as a cause for celebration, prompting a download surge for the song.
Source: music.uk.msn.com
Added by AutoAdmin
705 views