News
Fray guitarist receives U2's praise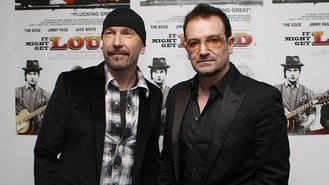 Fray guitarist Joe King has told of his honour when Bono praised his new single Need a Woman by Friday.
Fray had toured with U2 and so Joe sent the track to the band to thank them - specifically The Edge - for introducing him to New Orleans musician Trombone Shorty, who plays on the new song.
Joe reveal Bono told him in an email: "I need a song like this every Friday."
"It's just encouraging to get that kind of response from people you respect and look up to," Joe said.
"Bono and The Edge are two of the greatest songwriters in the world. When we toured with U2 they would take us to dinner. They would talk with us about being creative and writing, being a band and being songwriters."
Joe said collaborating with Trombone Shorty musically has evolved into a great friendship. He says he appreciates learning from other performers - especially U2.
"I think musicians need advice all the time. Being in the music business, it's like being in a pinball machine, and you are the ball, and the paddle is like your label and your management and you're going everywhere," he said. "So as much as you can get grounded with those people, then it's essential to being sane and continuing to be creative and inspired."
Source: music.uk.msn.com
Added by AutoAdmin
646 views