News
Spice Girls make rare records list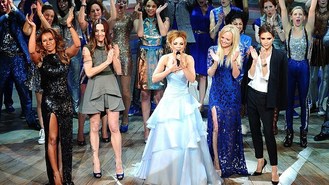 Albums by the Spice Girls and the Now That's What I Call Music compilations are among unlikely releases which are being prized by collectors and could give a windfall to pop fans.
They are among a list of "ordinary records with extraordinary prices" compiled by Record Collector magazine featuring the likes of Keane, Blur and Abba which in some cases could be worth hundreds of pounds.
Often the big money paid by enthusiasts goes on rare acetate copies, cult performers or vinyl versions. But unlike the two-yearly list of the UK's rarest records published by the magazine, it has decided to highlight often mainstream acts and run-of-the-mill albums or singles which can now command a decent price.
The magazine said it was "a list of records worth reasonable money that might just be owned by people who have bought only chart or best-selling records in the last 30 years".
They include releases such as the long-running various artist Now That's What I Call Music albums. Number 35 in the series, released in 1997, can command £80 mainly because at the time of its release few people were buying vinyl copies and it is now scarce. And conversely, a CD version of Now 4, released in 1984, is valued at £200, because at that time the CD was a novelty.
Also on the list is the Spice Girls' second album Spiceworld, with original vinyl copies fetching around £30 - mainly because the vast majority of sales were on CD.
Other popular acts on the list include Girls Aloud, for a 12-inch version of Long Hot Summer, valued at £20, and Dido for a vinyl version of her Life For Rent LP, costing £40.
Higher prices are commanded by the likes of a Coldplay 12-inch single - Don't Panic - of which very few were pressed because record label Parlophone decided to concentrate on CD versions. And a seven-inch copy of Abba's Voulez Vous/Angel Eyes dating from 1979 on red or yellow vinyl may go for £400.
Although the biggest prices for Beatles tracks tend to be attached to mint copies of early recordings, a 50th anniversary reissue from last year makes it into the list published tomorrow in the May issue of Record Collector.
EMI marked the half-century since Love Me Do/PS I Love You with a replica seven-inch of the single, but a mistake led to the wrong version of of the A-side being pressed so it was withdrawn. Copies go for £30.
Source: music.uk.msn.com
Added by AutoAdmin
716 views