News
Lynott mother welcomes back statue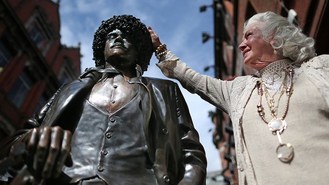 The mother of legendary rock star Phil Lynott has revealed how her "boyo" son once pretended to have lost an eye during a bar brawl.
Welcoming back a landmark statue of the Thin Lizzy frontman in Dublin, which had been removed after it was damaged by drunken vandals, Philomena Lynott said her son would have forgiven the culprits.
"I remember he rang me once from America and he said, 'I was in a fight last night', a fight in a bar, one of them bar brawls, 'And I kept looking for my eye'," Ms Lynott said of the Jailbreak singer.
"He said, 'Somebody's put in the papers Phil has lost an eye. You're going to read that, but don't be worried. I've not lost an eye at all, I pretended'.
"He kept saying, 'My eye, my eye'. He was a character Philip. He was a boyo."
Ms Lynott, who is as much loved by Thin Lizzy fans as the late singer himself, said she held no grudge against the two young men responsible for felling the bronze statue outside the Bruxelles pub just off Grafton Street.
She said they later apologised, saying they did not mean to vandalise the statue and that they were "drunk, frolicking".
"Well we've all got drunk and we've all frolicked, haven't we, God almighty?" she said. "I would hate to remember my past."
The life-size statue was almost split in two when it was knocked over in May. It was taken away for repairs and a polished version, on a sturdy new plinth, was unveiled today, with hundreds of fans welcoming its return.
The Boys Are Back In Town star, who died aged 36 in 1986, would have turned 64 next week.
Source: music.uk.msn.com
Added by AutoAdmin
631 views