News
Courtney feels the love for Gaga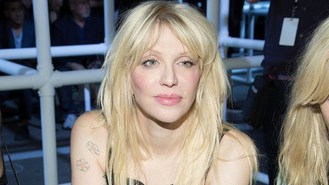 Courtney Love has said she is bored by Katy Perry, but feels the love for Lady Gaga.
The singer, 49, was at Hole drummer Scott Lipps' book launch, where she performed a 20-minute set with a commentary on today's pop stars that included branding Miley Cyrus a "hillbilly" and Katy Perry "boring".
Asked by New York Magazine about her Katy Perry comments, she said: "I'm not trying to be a bitch - she's a nice girl. But she just bores me."
But Courtney was more complimentary of Lady Gaga, who she met at a party recently.
She said: "We had a really good discussion. She's cool - we talked for about 15, 20 minutes. She's going through a lot of changes, and has been hanging out with Marina [Abramovic, the performance artist] and also my friend Klaus [Biesenbach, the art curator], and sort of discovering that side of herself.
"I really like the natural thing [she's doing lately] - I mean, I'm sure she'll go back to Gothic stuff. But she heard that I was going to leave so she came to find me. It was cool - like the popular girl came to tell me not to leave lunch hour."
Courtney said she didn't think Gaga's music had been inspired by her own work with Hole: "No, not at all. She's been around gay guys her whole life, and I think she's finally trying to get her own identity and find out who she is. I thought it was very brave of her at the VMAs to put boos in her audio track."
Source: music.uk.msn.com
Added by AutoAdmin
584 views