News
Numan tells of depression battle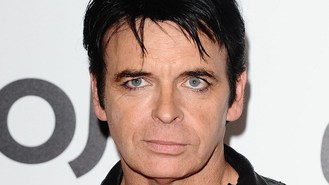 Gary Numan has told how a lengthy battle with depression has stopped him making music for years and left him crying in the street.
The Cars and Are Friends Electric hitmaker said both he and his wife Gemma had to receive medication for their illness which he called a "nightmare".
In an interview with Record Collector magazine, the former chart star told how his difficulties with music-making were further hampered by the pressures of parenthood which have stopped any extended periods of creativity in his studio.
" Gemma had depression for four years, and that was a nightmare, dreadful. So did I for two-and-a-half years, so we were both on tablets, in a state. When we needed each other the most, we were useless for each other. We had all kinds of problems. A world of s**t that we got through, but doing an album was the last thing I wanted."
He added: "When I had depression, I was having panic attacks and crying like a baby in the street. Really embarrassing."
Numan is about to release a new album Splinter (Songs From A Broken Mind) on Monday, but the electronic music pioneer said it had been a long process.
"I started seven years ago, but for the first four I didn't do anything. I had a period where I just ran away from it. We had three children close together, and it took me a while to adapt."
The couple tried to have children for many years and went through repeated cycles of IVF, but having a family has meant his rock'n'roll career has had to fit in with his parental duties.
"When I did start thinking about it, life was much more difficult, stressful and s**t than before. I wasn't able. Every other album before, I'd gone in the studio all day, for six months; that was my life. I had nothing else to do. Easy to plough in, ideas would flow. Now, after an hour, the kids are knocking, 'We've got to go to school'," he told the November edition of the magazine, published tomorrow.
"So you had to be creative in tiny segments and it was dreadful. I did nothing useful. I even built a fence around the studio to stop them, but they'd knock it down. But all these deep emotional problems were good for creativity, as even when I wasn't writing, it made its mark. So I'd write for a few days, it'd fall apart, then I'd do more.
"It's really embarrassing it took seven years. Ridiculous. I should've got on top of it."
Numan also told how he has rarely listened to music for years, and much of his collection was swiped during a break-in at his home.
"They stole it. My Gibson Gold Top guitar, loads of clothes. But since the late 70s, I've not listened to music," he said.
" As a musician, it's very difficult. You analyse everything. You hear a snare and go, "How'd they get that sound?" You can't help yourself. You deconstruct everything. Or get jealous.
"My wife gets annoyed, as she'll want music on in the car, but I can't have it, because it's when I think through my ideas and problems. Radio's annoying."
Source: music.uk.msn.com
Added by AutoAdmin
556 views