News
Monae: Higher power speaks in music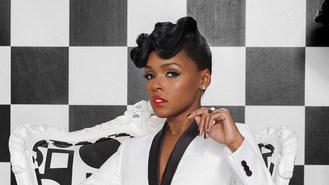 Janelle Monae has said she feels like a higher power is speaking through her music and using her as a mouthpiece.
The singer, whose vocals feature on the Fun. song We Are Young, said that her current album, The Electric Lady, came from a figure in a painting she had done.
She said: "Just the other week, I had a dream about a band that doesn't exist and I could hear their song so vividly. It was amazing. I have a lot of experiences like that, and I sometimes think there's a higher power speaking through me."
Asked whether someone else speaking through her added pressure, she said: "Absolutely. But it's been happening for a while. I used to feel it with my paintings.
"The Electric Lady really came from the silhouette of a lady I painted, and now the album tells the story of many different women. It's an insight into the lives of women past, present and future, so I had to make sure the music, from the orchestra to the horns, really got that message across, showing how intricate women can be, from different classes and from different times. The album is basically about being the change we want to see."
Janelle cited her other influences as sci-fi and fantasy tales: "I've been writing since I was 12 years old, and Goosebumps was always a big influence on me. I used to watch The Twilight Zone with my grandmother, and science fiction in general."
The Electric Lady features a performance from Prince, who she claimed to have developed a friendship with while swimming.
She said: "I have toured with Prince in the past, and obviously he's a big influence on me. He first reached out to me when I released Metropolis, my first nationally released EP. We formed a friendship, underwater. He was playing his guitar beneath the waves. He's an amazing swimmer. I approached him, he said he'd waited a lifetime to meet me, and that was that."
Source: music.uk.msn.com
Added by AutoAdmin
637 views