News
Beckham knew Spice Girls was over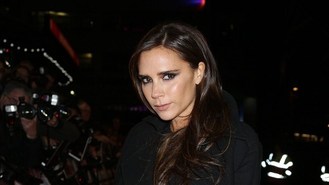 Victoria Beckham has said she knew that the Spice Girls had reached their end five years ago.
The former Posh Spice told French Vogue she felt her passion for the group had gone during their reunion tour and made it sound unlikely they'd reform again, according to the Daily Mirror.
She admitted: "I realised it was finished for good in 2008, when we reformed for our reunion tour [at Madison Square Gardens]. It should have been the best moment of my life, but I just wanted to be elsewhere.
"It wasn't a lack of respect for the girls or the audience, but the passion just wasn't there. By contrast, in my new career, the passion grows every year. I still want more."
Of her notoriously sulky looking Spice Girls persona, Victoria said: "I had to invent a character and I thought of that: staring at people and pouting. My insecurities helped me create the character in a way. Nowadays, it's like a barrier that comes back whenever I go out in public. That's the way fame has affected me."
Victoria insisted her life was quite normal, involving supermarket shopping trips with her and David's children Brooklyn, 14, Romeo, 11, Cruz, eight and Harper, two.
She said: "My life is very different than what people imagine it to be. It's always me who goes to Waitrose to do the weekly shop, Harper balancing on one hip, Brooklyn hanging on the trolley.
"I go down the aisles telling the kids, 'No, you can't have that', just like any other mother. People look at me in awe like I'm from the circus, but it doesn't bother me."
She also said she missed Los Angeles now that they had moved back to London: " I feel more free these days. Someone said to me once, LA's like a giant rehab centre for celebs. Everyone walks around in casual clothes.
"It's so far away from everything that people leave you alone. The weather is great. The sun is shining and you feel happy. The kids have brilliant, outdoorsy activities.
"In London, I wake up at 6am every day. The rhythm is hard. I feel like I'm on a moving escalator all the time. I love London, but life in LA is much more simple and relaxed."
Source: music.uk.msn.com
Added automatically
970 views