News
West: Eight songs for next album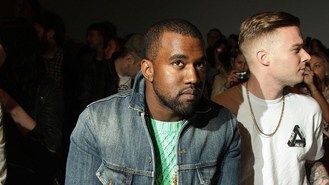 Kanye West has revealed his next album will only feature eight tracks.
The US rapper admitted that the record would be shorter than the ten-track Yeezus, which was out in 2012, reported Entertainment Weekly.
"I think my next album is going to be eight songs," he said at Art Basel.
"It's just reducing down the amount of information that you need. People say a design is the point where you can't take anything else away. [Yeezus] was very, very designed. I took a departure from radio and popular music in order to get this seat here. If I hadn't made Yeezus, I wouldn't be sitting here with this cool font at Basel right here," he added.
Kanye also admitted that his tour is so demanding that he "risks" his life each time he steps out on stage.
"I'm just giving of my body on the stage; I'm putting my life at risk, literally! When I think about when I'm on the Can't Tell Me Nothing and Coldest Winter moment, that mountain goes really, really high. And if I slipped... You never know. Something can happen to you," he told SaturdayNightOnline.
The 36-year-old, who is engaged to Kim Kardashian, also responded to a satirical story on The Daily Currant where he called himself "the next Nelson Mandela".
He tweeted: "I'd like to address the false stories and noise that have been engineered by the media. Despite recent media reports, I've never said anything to dishonour or trivialise the life or transition of one of the most inspiring leaders.
"At a young age my mother taught me the importance of his work. Mandela sacrificed his life for the betterment of mankind. Thank you, Mandela, for your life's work and may it serve as a guiding light to illuminate our future," he added.
Source: music.uk.msn.com
Added automatically
928 views