News
Madonna paints curb grey again after parking row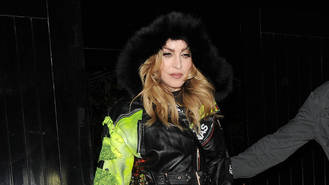 Madonna has had the curb outside her home repainted grey after a row with neighbours.
The Material Girl star hit headlines last month (Mar16) when she was ordered to remove signs in front of her Upper East Side townhouse in New York which read, "Tenant parking only... unauthorized vehicles will be towed away at vehicle owner's expense". In addition, the words "No Parking" had been embossed in cement on the sidewalk, and the nearby curb had been painted yellow.
The pop icon later took to Instagram to confirm the reports, adding: "So sorry the city doesn't like the colour yellow! We will paint a nice dull grey to keep our neighbours happy!"
Now Arc3 construction company has confirmed to the New York Post's gossip column Page Six that they received a call from Madonna's team just before the weekend to organise the alterations.
A representative from the business added to the publication that they levelled the raised "No Parking" lettering and changed the "colour of the curb from yellow to battleship grey".
The parking incident was just the latest controversy surrounding the star - she has been locked in a custody battle with her ex-husband Guy Ritchie over their 15-year-old son Rocco for months. The teenager refused to return back to New York after visiting his father in London in December (15).
Madonna originally filed her case in New York and London, but the U.K. proceedings were closed last month (Mar16) as per Madonna's request.
The judge Mr Justice MacDonald urged the former couple to resolve the matter rather than drag it out and risk missing the remaining years of Rocco's childhood.
"Summer does not last forever," he said. "The boy very quickly becomes the man. It would be a very great tragedy for Rocco if any more of the precious and fast receding days of his childhood were to be taken up by this dispute.
"Far better for each of his parents to spend that time enjoying, in turn, the company of the mature, articulate and reflective young man who is their son and who is a very great credit to them both."
And it seems things are getting more civil between the family after Guy was seen arriving at Madonna's home in London, England, clutching a bottle of wine on Monday evening (18Apr16).
Source: www.msn.com
Added automatically
662 views