News
Rolling Stones collaborate with Eric Clapton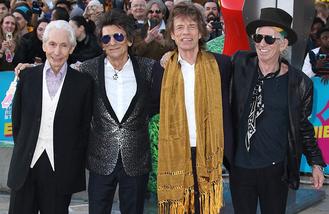 The Rolling Stones have collaborated with Eric Clapton.
The 'Paint It Black' hitmakers - comprised of Sir Mick Jagger, Keith Richards, Charlie Watts and Ronnie Wood - have recorded two new tracks with the legendary blues singer for their forthcoming album after he gatecrashed their studio time in Chiswick, West London, recently.
A source told The Sun newspaper: "Eric was in the next studio along so he came in to say hello. They ended up jamming and recorded two songs. [Producer] Don [Was] reckons it's the best thing he has done with the Stones."
This isn't the first time Eric, 71, has worked with the group as he previously joined them on stage in 2012 for their second '50 & Counting' concert at London's O2 Arena.
An unheard version of the Rolling Stones' track 'Brown Sugar' also emerged last year featuring the vocals of Eric.
However, it's believed this is the first time they have all joined forces in the studio and recorded a new song.
Meanwhile, the Rolling Stones' new album, which is yet to be given a name, will be their first in over a decade.
But, despite the fact it hasn't been dropped yet, it's believed the band are already starting work on their next studio LP as they are enjoying working on new content so much.
An insider explained: "They have decided to go back in the studio this month because they are enjoying it so much."
Meanwhile, the band may have a combined age of 286, but they certainly aren't showing any signs of slowing down following success of their gig in Cuba - their biggest concert to date - in April.
Keith previously said: "We're planning some gigs later on this year. I take each tour as it comes and at the moment I'm still shaking Cuba off me."
Source: www.msn.com
Added by AutoAdmin
378 views