News
Matt Willis waited years for Busted reunion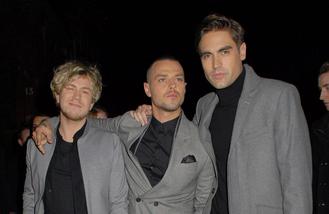 Matt Willis has wanted Busted to reform for the last six years.
The 'Year 3000' hitmakers went their separate ways in 2005 before reuniting last year, and the 33-year-old bassist has admitted he'd been hoping the band would find their way back to one another for over half a decade.
Asked if he wants to try and detach himself from the band, he told Men's Health magazine: "I love Busted. We got back together in June 2015 and we hadn't been a band for about 12 years. Without being too dramatic, this is what I've wanted to happen for the last six years. I'm stoked about it. We went away and recorded some really amazing music, which we're all really creatively happy with."
And although Matt has some acting gigs coming up, he's adamant his reunion with his fellow band mates Charlie Simpson and James Bourne isn't just a one-off and they're back together for good.
He said previously: "We see this as the next part of Busted. Even if we'd got back together for just one more tour, I would've still been happy.
"But the fact this is a whole new thing and a new chapter for Busted is so much more exciting. There will hopefully be something to drop before the tour, and then the proper single in the summer afterwards. Busted is very different, but the thing is it's still Busted."
The group recently announced they have signed a new record deal with East West.
Matt said of the deal: "We wrote some awesome songs together and now Busted are back! The three of us went into the studio with no preconceptions, and were so elated with the results that we wanted to start a new chapter of our band!
"We are having an incredible time on our arena tour, and are now looking forward to releasing new music through a global partnership with East West. It's great to see Dan, Howard and the team as excited about the new music as we are."
Source: www.msn.com
Added automatically
676 views