News
Bebe Rexha aspires to be like Kanye West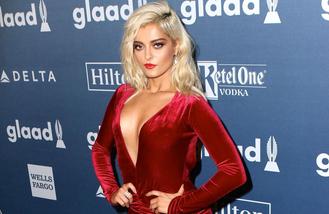 Bebe Rexha wants to be the next Kanye West.
The 26-year-old pop singer has revealed she's more inspired by male hip hop artists than her peers including Nicki Minaj - who features on her latest single 'No Broken Hearts' - and feels "fearless" just like the 'Bound 2' hitmaker.
She said: "I view myself as a male artist.
"I'm very tomboy and I'm inspired by hip hop artists.
"I want to be Kanye and do what he does musically. I'm very fearless."
Meanwhile, the blonde beauty - who originally wrote Eminem and Rihanna's song 'Monster' for herself - says growing up in New York has made her thick-skinned and able to stick up for herself.
She told Britain's Metro newspaper: "When you grow up in New York, you're female and your parents come from a different country [Albania], you have to toughen up and be like one of the boys."
The 'Me, Myself & I' singer also opened up about receiving unnecessary attention from the opposite sex in the music industry and how she once refused to go into the studio with a producer after he inappropriately touched her.
She revealed: "A very big producer - he's done a lot of big songs - started massaging my leg [once] and then he was like, 'I would love to buy you a sundress'.
"I had a team around me at the time who were like 'Do the session, you need a hit song.'
"But I got up, called a cab and I got the f**k out of the studio.
"I refuse to sit here and have someone sexually harass me, f**k this dude.
"I've had situations where producers would be like 'Could you meet me? Take the train, don't tell you parents'. "
Source: www.msn.com
Added automatically
646 views