News
Pitbull joins Cassadee Pope and Leona Lewis at CMT Music Awards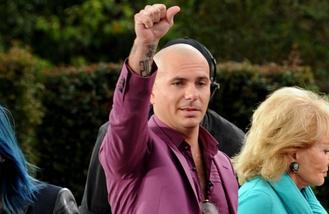 Pitbull, Cassadee Pope and Leona Lewis are set to perform together at the CMT Music Awards.
The 35-year-old rapper will perform his new single 'Messin' Around' with Cassade and the 'Bleeding Love' hitmaker on Wednesday (08.06.16) at the annual country music event at the Bridgestone Arena in Nashville, Tennessee.
Speaking to Billboard, the event's producer John Hamlin said: "I'm thrilled to tell you that we have Pitbull performing with Leona Lewis and Cassadee Pope. They're going to perform his new single 'Messin' Around,' which he recorded with Enrique Iglesias, and we're having Leona and Cassadee do the Enrique part. That's a classic example of different worlds colliding that is unexpected, but when you see it, it fits. It works."
John revealed he is keen to tap into the idea of people being fans of different genres of music by putting together a show that features performances from pairings you wouldn't usually see together.
And he hopes that by pairing Pitbull with Cassadee - who is the lead singer of rock group 'Hey Monday' - and Leona, who won UK TV show 'X Factor' in 2006 - he can start to break down genre barriers that he believes no longer matter.
He said: "The most important fact of what is happening in contemporary popular music is that the fans are not as genre-loyal as they once were. What I mean by that is if you ask a kid if they are a country music fan, and they will say yes. Then, look at their iTunes list and what's in their phone. You'll see plenty of country music, but you will see a lot of other things. People today just like music. It doesn't matter which genre program directors or record companies are defining it as. They just like what they like."
The star-studded collaboration is not the only one set to appear at the CMT Music Awards, other pairings include country musician Cam appearing alongside girl group Fifth Harmony, and Dierks Bentley performing live with Elle King.
Source: www.msn.com
Added automatically
666 views