News
Tom Jones moves audience with memories of late wife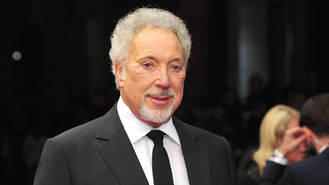 Tom Jones only realised that his wife was "the most important thing in my life" after her death.
The Welsh music maker lost wife of 59 years Lady Melinda Rose Woodward, known as Linda, in April (16). Tom made his first public appearance since her passing as he attended the Hay Festival in Hay-on-Wye, Wales, on Sunday (05Jun16) to promote his new autobiography Over the Top and Back.
Wearing a sombre outfit of a black top, grey jacket and black and grey scarf, Tom appeared distracted and only managed a small smile as he greeted the audience at the event before discussing the tome with magazine editor Dylan Jones.
His marriage was one of the first things Tom discussed, as he described Linda's passing as "the hardest thing I've ever done in my life".
"It's very difficult. We were married for 59 years, we knew each other since we were kids," he added. "It was fast, she had cancer."
Tom also revealed that it was only after Linda died that he realised she was "the most important thing in my life".
His touching recollection of his time with his wife led to an outburst of emotions from the audience, with one writing on Twitter that there was "not a dry eye in the house".
The star's appearance at the Hay Festival came after he admitted to British stage star Michael Ball on his BBC Radio 2 show last month (May16) that he was turning to music to help him cope following Linda's death.
"I'm back in it and getting back in form," he said. "Singing is what I do. I'm a singer and I love to sing. I have to be strong. I was wondering if I could use that love as a strength, and it was. (Linda) wanted me to go on and keep singing, she said not to stop."
Tom has a string of gigs lined up over the summer.
Source: www.msn.com
Added automatically
686 views