News
Christina Aguilera donating single proceeds to Orlando victims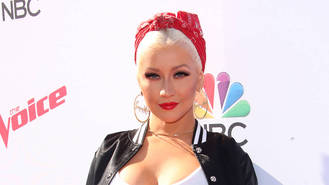 Christina Aguilera is donating the proceeds from her new single to the Orlando shooting victims.
In what was the most devastating mass shooting in U.S. history, gunman Omar Mateen claimed the lives of 49 people and injured 53 more when he opened fire at gay nightclub Pulse in the Florida city last weekend (11-12Jun16).
Countless celebrities have come forward to voice their horror at the tragic incident and, in an emotional letter posted to her website on Friday (17Jun16), Christina revealed she is hoping to make a difference with her gesture.
Earnings through U.S. iTunes downloads of her new song Change, which she co-wrote with Who Is Fancy and Flo Reutter, for the next three months will be donated to the National Compassion Fund, to benefit the victims of the shooting and their families. The record label and publisher of the track will also donate proceeds.
"The horrific tragedy that occurred in Orlando continues to weigh heavily on my mind. I am sending so much love and so many prayers to the victims and their families," The Voice U.S. Christina wrote on her website. "Like so many, I want to help be part of the change this world needs to make it a beautiful inclusive place where humanity can love each other freely and passionately.
"We live in a time of diversity, in a time of endless possibilities, in a time where expression of oneself is something to be celebrated. And I am left wondering how people filled with so much love could be taken by so much hate. Though there is such heavy sadness, I believe that there is much more love in the world than we know. We need to learn to love again, we need to learn that one person does make a difference; we need to keep love in our hearts."
Lyrics for the heartfelt track include: "Waiting for a change to set us free / Waiting for the day when you can be you and I can be me / Waiting for a hug to come around / Waiting for the day when hate is lost and love is found / Waiting for a change."
Source: www.msn.com
Added automatically
642 views