News
Public memorial service held for Christina Grimmie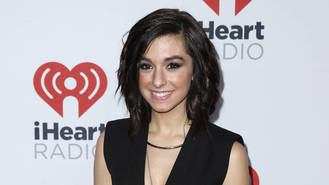 More than 1,500 family, friends and fans gathered at a chapel in New Jersey to pay tribute to Christina Grimmie.
The 22-year-old singer, who appeared on the U.S. television talent show The Voice in 2014, was killed last week (10Jun16) when 27-year-old gunman Kevin James Loibl opened fire during a fan meet and greet following a concert in Orlando, Florida.
Christina was signing autographs after her concert at the Plaza Live Theater when Loibl, armed with two guns, walked up and shot her, before fatally shooting himself as the star's brother Marcus tackled him. Christina was rushed to the Orlando Regional Medical Center, where she was later pronounced dead.
The memorial to celebrate her life was held at the Fellowship Alliance Chapel in Medford on Friday (17Jun16), which the family had attended before moving to California to help Christina pursue her dream of a musical career.
A huge photo of the singer hung from the wall in the chapel, and flowers packed the altar as tributes were paid to the slain star during the 90-minute service.
Christina's brother Marcus was visibly moved as he told the congregation what happened on that fateful night.
"All the rumours are true, when the gunman came, he was very quick, it happened so fast, her arms were open and she saw Jesus next," he recalled. "Her arms were open for him (Jesus), her arms were open at all times. I love you Christina, you are the best."
Her mother Tina sobbed as she addressed the crowd, and was comforted by her husband Bud. "I don't have too much to say. I could tell you about the memories of when she was a baby and she lah-la-lahed and when she was getting a bath I'd tell her to sing for Jesus," she said through tears.
"The last time I saw my daughter was on my birthday, May 25, the day before we had mother-daughter time and we'd talk and on my birthday, me, Bud, Christina and Marc, we went to The Cheesecake Factory and I always told her I loved her and to put God first."
Bud, who had his arms wrapped around his distraught wife, added, "This crowd has blessed me beyond words. There is this gigantic hole in my heart that I know is never going to go away but God showed me he is way bigger than that hole. I believe that.
"There are three things that keep me upright rather than being a crumpled mess in the corner. I know I am going to see her again. She is not going to be hurting... This is where I am wrestling, God's plan is better than my plan. I've argued with God, 'Your plans are better than mine?' This doesn't make sense."
On Thursday her close family and friends came together for an "intimate gathering" to celebrate her life, according to People.com. It was previously reported that Christina's The Voice mentor Adam Levine had offered to pay for the funeral expenses.
Source: www.msn.com
Added automatically
684 views