News
Meat Loaf 'stable' after collapsing on stage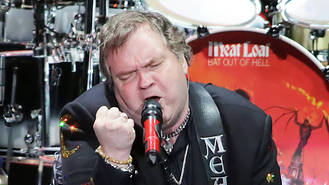 Meat Loaf is "stable and in good condition" in hospital after collapsing on stage.
The 68-year-old musician, real name Marvin Lee Aday, was performing arguably his biggest hit I'd Do Anything for Love (But I Won't Do That) at the Jubilee Auditorium in Edmonton, Canada, on Thursday night (16Jun16) when he keeled over.
He failed to respond to crew members who tried to revive him, with the Alberta Health Service (AHS) confirming to media they had taken a patient from the venue to an Edmonton hospital following what they described as a "fainting episode".
A representative for the singer responded to CBS New York's request for an update on Aday's condition, telling them he is "stable and in good condition".
Further details about exactly what happened have yet to be revealed.
Video from the concert shows the singer laying motionless on the stage after appearing to have lost consciousness, as several people rush to help him.
The footage runs for around six minutes, during which Aday doesn't move after falling to the ground. Shortly after the video ended, the crowd was cleared from the venue.
The last comment on Meat Loaf's official Facebook page was a picture of the auditorium with the caption: "HEY EDMONTON!!! We're here!!!" Underneath the message, someone revealed news of the singer's collapse, while another fan Lynne Legal-Lowe wrote of her devastation at having watched the situation unfold.
"I was there also," she wrote. "It was unreal. He is certainly loved and his fans proved that tonight. The look on everyone's faces as we left the auditorium showed it. We love you Meat. Prayers going out."
Another fan, Lisa Slater, added: "It was so upsetting to watch. Like Lynne said, everyone was devastated. I hope he's okay."
His collapse comes after he cancelled shows in Moose Jaw and Calgary earlier this week (end17Jun16), due to an undisclosed medical condition.
Source: www.msn.com
Added automatically
666 views