News
Sia cried before big Central Park show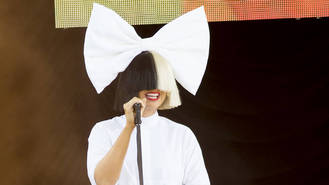 Pop star Sia broke down in tears before a big TV gig on Friday (22Jul16) after fearing her voice was too "croaky" to perform.
The singer headlined U.S. breakfast show Good Morning America's Summer Concert Series event in New York's Central Park, and took to the stage with her trademark black-and-blonde wig, which covered her face, topped with an oversized white bow.
However, during a mid-show interview, Sia admitted she had been battling more nerves than usual ahead of the live concert, because she had woken up with a sore throat.
"I do not love performing!," the famously-shy star said. "I get really scared and I just cried in the dressing room!
"I'm really croaky and I was like, 'I'm not gonna hit the high note and I want everyone to like me...'"
She added, "It's scary to perform. I do it because I want to make you (fans) happy."
Sia needn't have worried - she went on to perform hits including Chandelier and Unstoppable, much to the audience's delight, although she noticeably skipped some of the higher notes during the songs.
The singer has made no secret of her desire to keep her face hidden onstage and in interviews.
Earlier this year (16), she told to U.S. talk show host James Corden, "I don't wear this (wig) unless there are cameras around. I only wear this to try and maintain a modicum of privacy."
Sia went on to admit having a taste of fame earlier on in her career, before she decided to hide her face from public view, had sent her on a downward spiral, and now she's sober, she has no plans to revisit those dark times ever again.
"I was a singer for 10 or 11 years to mediocre success. I was an alcoholic and a drug addict, and I sobered up and I decided I didn't want to be an artist anymore because I was starting to get a little bit famous and it was destabilising in some way," she explained. "I thought, 'What doesn't exist in pop music at the moment?' And it was mystery!"
The reclusive hitmaker recently announced plans for her first full concert trek in five years. She will hit the road in North American with Miguel for the Nostalgic for the Present Tour in September (16).
Source: www.msn.com
Added by AutoAdmin
334 views