News
Bruce Springsteen to release rare tracks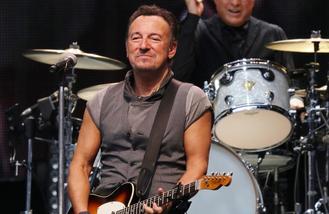 Bruce Springsteen is set to release a compilation album of rare tracks dating back to 1966.
The album will be called 'Chapter and Verse' and will serve as a companion to his forthcoming autobiography 'Born to Run,' and will be released on 23 September three days before the book is launched.
Some of the songs on the album go back as far as 1966, predating his 1973 debut 'Greetings From Asbury Park' by seven years.
The compilation will feature 18 songs and it will include 'Baby I' which Springsteen co-wrote with his band mate, George Theiss, when he recorded with the Castilles, the band Bruce was in as a teenager in 1966.
The album also has another recording with the same band, a cover of Willie Dixon's 'You Can't Judge a Book by the Cover' from 1967.
The record will contain songs from most of the 'Born in the USA' rocker's albums, spanning his later period with the E Street Band and solo recordings.
Springsteen, 66, has reportedly spent six years writing the book and it will tell his journey to super-stardom and reveal some of his personal struggles.
A description of the tome reveals: "Springsteen describes growing up in Freehold, New Jersey amid the 'poetry, danger, and darkness' that fuelled his imagination.
"He vividly recounts his relentless drive to become a musician, his early days as a bar band king in Asbury Park, and the rise of the E Street Band. With disarming candour, he also tells for the first time the story of the personal struggles that inspired his best work, and shows us why the song 'Born To Run' reveals more than we previously realised."
In an excerpt from the book Springsteen, who is known as 'The Boss', writes: "Writing about yourself is a funny business, but in a project like this, the writer has made one promise, to show the reader his mind. In these pages, I've tried to do this."
Bruce Springsteen's 'Chapter and Verse' tracklisting:
1. 'Baby I' - The Castiles
2. 'You Can't Judge a Book by the Cover' - The Castiles
3. 'He's Guilty (The Judge Song)' - Steel Mill
4. 'Ballad of Jesse James' - The Bruce Springsteen Band
5. 'Henry Boy'
6. 'Growin' Up
7. '4th of July, Asbury Park (Sandy)'
8. 'Born to Run'
9. 'Badlands'
10. 'The River'
11. 'My Father's House'
12. 'Born in the U.S.A.'
13. 'Brilliant Disguise'
14. 'Living Proof'
15. 'The Ghost of Tom Joad'
16. 'The Rising'
17. 'Long Time Comin''
18. 'Wrecking Ball'
Source: www.msn.com
Added automatically
694 views